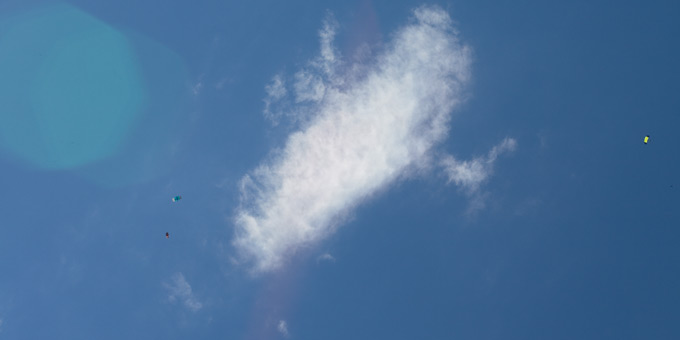 This past weekend I took my father up to Longmont, Colorado to jump out of a plane which has been something that he's wanted to do for sometime. Without question, partaking in this activity was something that I was quite apprehensive about. My thoughts are best described in excerpt from an email I sent to a great friend and colleague:
"The plane is tiny. Two rows of benches with barely enough room for two people to be facing each other. If you're on the plane and not the last person in it, the only way you are getting out is by jumping. At the back of the plane there are three lights. Yellow (get ready), green (jump) and red (don't jump). The yellow light comes on and the instructor tells me, put your goggles on. The plane reduces it's engine thrust and the door is opened. Unbelievable. The air really cool, not cold, crisp and quite hard to breath and at that point the light turns green. I paid a guy to jump and film me, so he's the first out of the plane, not jumping however, just hanging like a monkey on the outside of the door. My instructor tells me, get up and we walk over to the door, lean out, and are the first to jump. No are you ready, no taking a second to look out of the plane. Probably one of the wildest feelings being 12,000 feet above earth, falling at 120 miles an hour but not really feeling anything. When we jumped out of the plane we did a long flip, by the time I could see the plane, it had to have been a good 300 or 400 feet away. When you are falling, it is so loud, just the static from the wind. I thought it would always be like one extended ride with my stomach in my feet, but it wasn't that way. I guess with the point of reference being so far away, your body can't produce that feeling? It was like that for a split second when you leave the plane. Nothing like the dreams where you are falling and falling."
In the end, I guess this is one of those things that you've got to do. Once the parachute opens, you're suspended thousands of feet above the earth and the only audible sounds being that of the ringing in your ears from free fall, the faint flap of the parachute and the voice of your instructor. To paraphrase Ferris Bueller's Day Off: "I guess everything is peaceful from a thousand feet".
Experience aside, one thing that I'll take away from doing this is an appreciation for those who after doing something so many times (my instructor has been jumping for 40 years) still demonstrate an outward appreciation for what they do for a living.
Thanks to those at Mile Hi Skydiving for the great experience.