I'll never forget the day I wired my deposit to my landlord in Italia securing my apartment in Firenze around four years ago to the day. Fed up with the life I was living, I decided to spend some time away from Denver with an extended visit to the place on the face of the earth that I love the most. I found an apartment in the Oltrarno on craigslist and after a string of emails with the owner and her references, one of which was ironically from Boulder, I decided to take the place. I remember one night soon after; listening to the new self titled Pearl Jam album while exploring the location and it's surroundings on Google Map's satellite view to ascertain a better mental visual to what the place would be like. A similar screen grab is pictured above.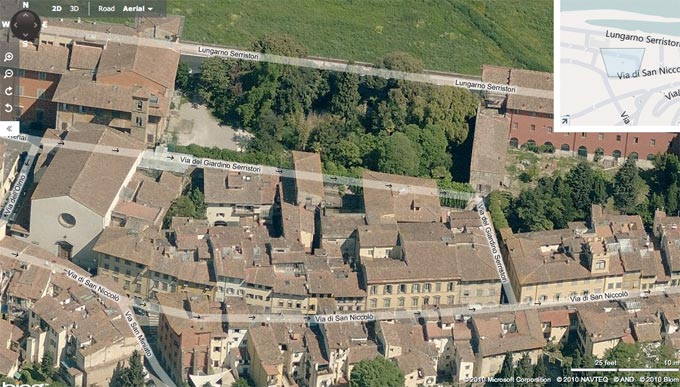 Flash forward what seems like a lifetime later to my day at work today at Signature Advertising and some time spent online researching a location for a map I was working on. During said scouring, I ran across Bing's Bird's Eye, something I had admittedly not been aware of prior to this day. To use my catch phrase, I cannot lie, I'd never imagine expressing interest in something created at the hands of Microsoft, but I was taken aback. Simply put, life visualized as Sim City. The vivid detail sense immersion and perspective are quite striking. Hell, I can see the courtyard, where I would sit out at night drinking beers and writing, that my apartment faced from a vantage point other than from directly above. In all honesty, I have not used Google Earth in some time, so I'm unaware of how that parallels to this, but there is something about this that futher breaks down the boundary between physical and digital. Combine this with Google's even closer magnification from above and their Street View and one can create an umbrella visual understanding of a location like never before. To postulate where similar applications will develop to in another four years is an interesting question to ponder.
The one criticism I have of Bing's Bird's View is that it tends to lag in terms of the amount of time it takes to render images, if it renders them at all.
As a brief aside, I've provided the image above as a comparison to what was visible in 2006 (via recollection) at the closest level on Google Maps and what is now visible at the closest level in 2010.