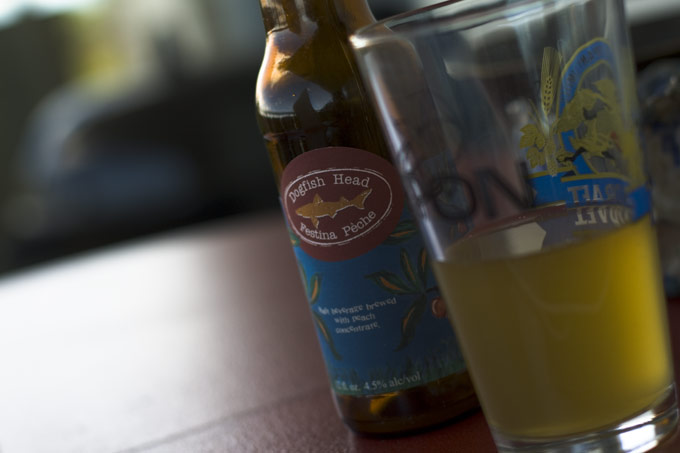 As the day's temperature hovers around 95°F, I could not pass up the temptation to cool down with a nice cold one. To compliment the late summer heat I decided to open a bottle of DogFish Head's Festina Pêche.
Festina Pêche pours a cloudy wheat field yellow with a fizzy head that disappears to nothing within seconds. Festina smells of sweet malt, wheat with hints of fresh peaches purchased from the farmer's market. The beer immediately hits the taste buds with a very sweet tartness that quickly subsides into a citrus-like crisp aftertaste. In all honesty, I find more of the peach characteristics within the nose of the beer as opposed to its taste. There are hints of the fruit throughout, however, they seem to mix and combine with other qualities such touches of lemon.
While I generally find my preference deviating from sweeter beers, Pêche was a perfect accompaniment for the heat of the day and I found it to be quite refreshing. With that said, I'm glad aspects of this beer were on the tart side, otherwise I probably would have found the beer to be too sweet. Unfortunately, we only have one bottle of this beer left and the local store no longer has any in stock, otherwise, I could see myself knocking back a few more to close out the weekend.
Drink up.
Beer Tidbits:
Name: Festina Pêche
Brewed by: Dogfish Head Craft Brewery, Inc.
In: Milton, Delaware
Style: Berliner Weissbier
Alcohol by volume: 4.5%
IBU: 8
Consumed from: 12 fl. oz. bottle
From: Argonaut Wine & Liquor
For: ?