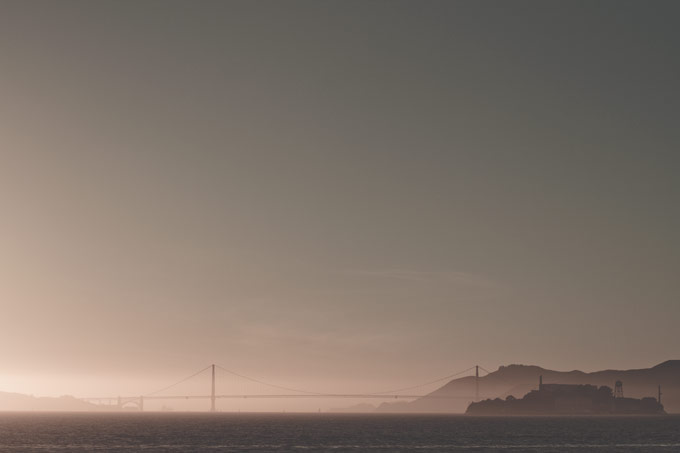 Earlier this month, I closed up the shop, packed the gear and headed out to California for eight days to explore the San Francisco Bay area. My excursion was divided into two parts: a few days hanging out with my aunt and uncle who live in Petaluma followed by a few days exploring San Francisco with the lovely Miss Erin and her brother who resides in the city.
California is one of those places that compares to little else that I've experienced over the course of my travels around the world. Touches of an European lifestyle, the rolling hills, the snaking coastline, the farmlands, the cuisine, the rich, the famous and those struggling to get by all intermingle into a strangely interesting and intriguing place.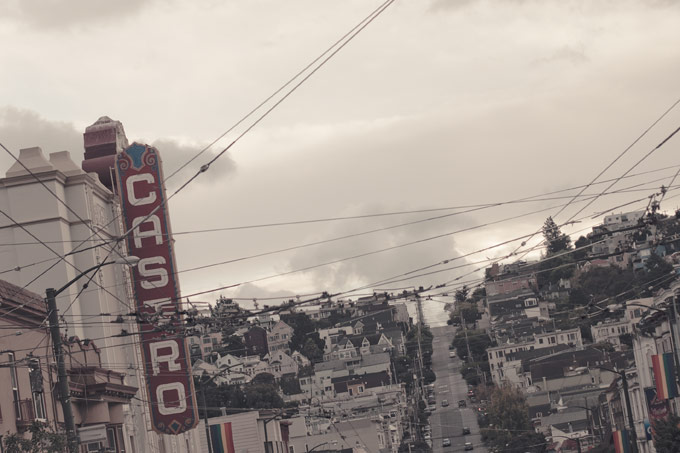 As a visual person I find it perplexing to admit that one of my favorite aspects of California is how good it smells. Just as the vistas, cultures and people morph into one another as the miles of the landscape pass by, so to do the wonderful scents of the ocean, the fog and the redwoods. Furthermore, one of my favorite aromas in the world is that of the smell that consistently permeates itself on the cliffs overlooking the Golden Gate Bridge and the city from the north. Whatever that it is, perhaps a combination of eucalyptus, fog and ocean combined, it is permanently etched to my mind and whenever I think of the Golden State it is one of the first memories that presents itself.
A snippet of the experience as described through my viewfinder rounds out the remainder of this posting. I decided to treat the images in a manner that parallels the degradation imparted by the California climate on all things man made.
The trip offered the opportunity to see some timeless artwork created by masters of their respective mediums. The first exhibitions I visited were Henri Cartier-Bresson: The Modern Century and Exposed: Voyeurism, Surveillance, and the Camera Since 1870. Exposed was interesting in its own right chronicling photography and the medium's history as a tool for creating imagery, artistic and journalistic in nature, with a commonality. From sexual expression to the brutal reality of wartime and death the show chronicled photography as a means of expressing voyeuristic, taboo and confrontational subject matter. Parts, such as the war imagery, I found difficult to view and quite disheartening even despite past exposure to the same pieces. Additionally, I was intrigued by the presentation of old cameras and accessories, particularly the small camera inserted into the sole of a shoe and the physical size of a the old cameras disguised as shirt buttons.
The Cartier-Bresson retrospective was a highlight for me. Simply mesmerizing. I could have stayed until they kicked me out had it not been for not wanting to hold my family up. My interpretation of his talent lies in his ability to seamlessly capture history as it happened while minimizing his presence within his environments ultimately allowing the viewer feel as if they are part of the scene instead of looking at a photograph. I was quite disappointed when I missed this show when it was on display in New York City, so getting to see this in San Francisco made up for my tardiness getting out east last spring. Well worth the price of admission.
Later in the week we went to the de Young to see Van Gogh, Gauguin, Cézanne and Beyond: Post-Impressionist Masterpieces from the Musée d'Orsay. The work is timeless. The exhibition and attending it was more akin to trying to make one's way to the bar at a packed nightclub on a Friday night. Filled with people talking about how to transfer contacts from their iphones to computers, zombies with the audio tour paying no attention their surroundings and socialites carrying on about anything but art; the show and the manner which it was presented allowed for little enjoyment of the art. I really appreciate the opportunity that this exhibition provides in terms of allowing many to see work that they might not get a chance to see otherwise and I got to see one of my favorite Van Gogh pieces again. With that said, I felt as if I was at a rock show or in a stock yard as opposed to an art museum at this one.
The Mission is probably one of my favorite areas of the city to wonder around it. Colfax on steroids, it bursts at the seams with culture, language, grunge, grit, down to Earth cuisine, typography, murals and other sensory distractions. Well worth the exploration.
As always, a visit to Amoeba Music on Haight street is a must. How anyone could not enjoy a quick stop into this space of auditory greatness is completely beyond me. Last visit's acquisitions were a few Pearl Jam live shows from their 2000 tour. This year I walked away with Chulahoma by The Black Keys, Blunt Object – Live In Tokyo by The Bad Plus and Someday My Prince Will Come by Miles Davis. A favor will be done to yourself if you purchase any of the aforementioned. As long as this place lives on, so to will my ability to purchase good music that I can hold in my hand. Long live Amoeba, all independent music stores and what they represent.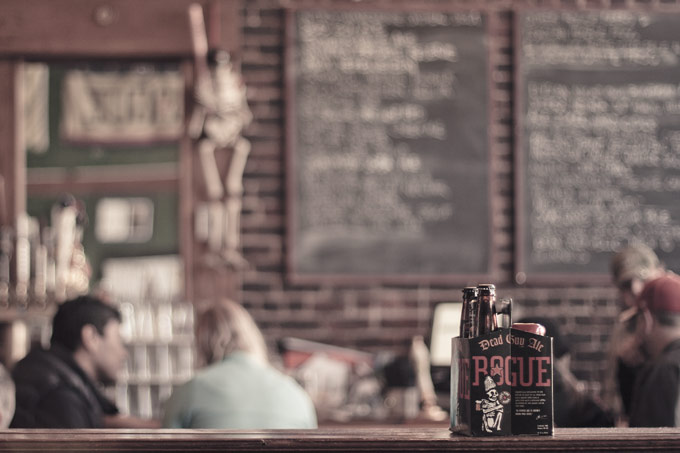 Rogue Ales has a tap house in the North Beach neighborhood in the city. Naturally we had to make a point to imbibe on some of their offerings. In the past I had only sampled their Dead Guy Ale and their Juniper Pale Ale. I ordered a sample tray containing Brutal IPA, Hazelnut Brown Nectar Brown Ale, Dry Hopped Saint Rogue Red and as my notes indicate a Northwest Red IPA the proper name of which I can't find online. The Brutal IPA and aforementioned untitled "Red IPA" were my favorites. Also took home a bomber of their Chatoe Rogue Wet Hop Ale which was delicious. Looking forward to returning to this place, which had an outstanding offering of their beers as well as an ample selection from other breweries.
Miss Erin at the Sutro Baths. Hat that mimics the rocks? Check!
Before jumping on the jetliner for the ride back to Denver we visited the Sutro Baths located in the northwestern tip of the city. Interesting caves and ruins aside which were once a public bath house from 1896 to 1960 when they burned down; we met a fascinating gentleman who enlightened us regarding driftwood, how collecting said driftwood results in park rangers pointing a 9mm at your head and other general conspiracy theories. Shine on you crazy diamond. A fitting conclusion to any visit to California.
There you have it. The longest Beer & Coffee rambling to date. Next adventure on deck? A three week jaunt around Peru in January. Eat your heart of Che.