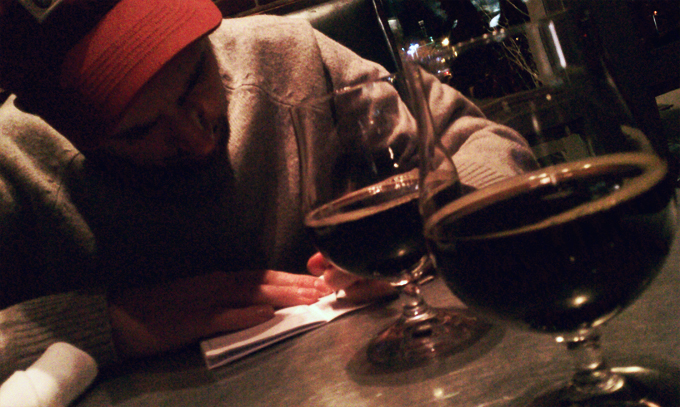 Myself at Euclid Hall
Photo Credit: Erin Williams © 2012
Sadly, it has been too long since I've made time to update B&C. With grandiose plans during my time off for the holidays to update and rework a few of my websites, my thoughts were soon distracted to my family, friends, Miss Erin, beers and sleeping in. I had accomplished little other than some really good memories. For that I'm proud of myself. Like a bat of an eye, the precious time soon passed and here I am looking at the world from the otherside of 30 and 2012. However, I'll save that lamentation for another time for tonight is about The Bruery's 4 Calling Birds and Euclid Hall.
The depths of winter are never my favorite time of year. I hate waking up to dark. I hate leaving work in dark. I'd be OK never seeing snow again in my life. The only thing about cold that I do like is getting to wear my overcoat because it is fucking boss. Therefore, any shelter from the storm that is winter is a welcomed one. This January my refuge is Euclid Hall's Beer Month. A month of nightly rare and exotic beer tappings is akin to the siren call of summer for me. Upon hearing of the month long event, the lovely Miss Erin and I picked out a few beers that we have little to no chance otherwise of imbibing on. The tapping of 4 Calling Birds tonight was the first of a few we plan to attend. The fourth installment of this 12 year quest by The Bruery, a spiced strong dark ale, pours a deep mahogany color smelling of molasses, brown sugar, subtle holiday cookie spices, with slight hints of yeast and bananas. The brew has a very rich body that tastes of maple, brown sugar, juniper, vanilla, alcohol and banana bread (I really did not pick up on dark fruit as many mention). The beer is sweet up front and parts ways to lingering flavors of chocolate and roasted malts. I quite enjoyed the beer but I found it a bit too sweet and boozy for my preference, but that was expected given the nature and concept of the beer. I feel I will prefer this beer with some age under it which we are doing to the bottle we have.
Not to take a back seat to 4 Calling Birds is the greatness that is Euclid Hall. While a bit pricey, I must say that since being introduced to the joint by my coworkers it has quickly grown into one of my favorite places in Denver to spend my hommie papers. With an attention to that which is fine in the world of beer and a delectable cuisine, I am a happy man anytime i pass through their doors. The brat burger is worth the trip alone even if you do not like brews.
Unfortunately, the radio silence as of late may persist for a while longer when it comes to B&C. I'm not one for New Year's Resolutions, but if I were to make one for 2012 it would be to get off my fucking ass when it comes to my photographs. Dating back to my times stomping through Italy, I have many photographs that have yet to see the light of day. Therefore, very soon I hope to get a new photography site up and running for myself to post these images to. The little free time I have will be dedicated to that objective. The only retrospective I'll have is the one I give to myself. Happy 2012. Don't do anything I wouldn't do.