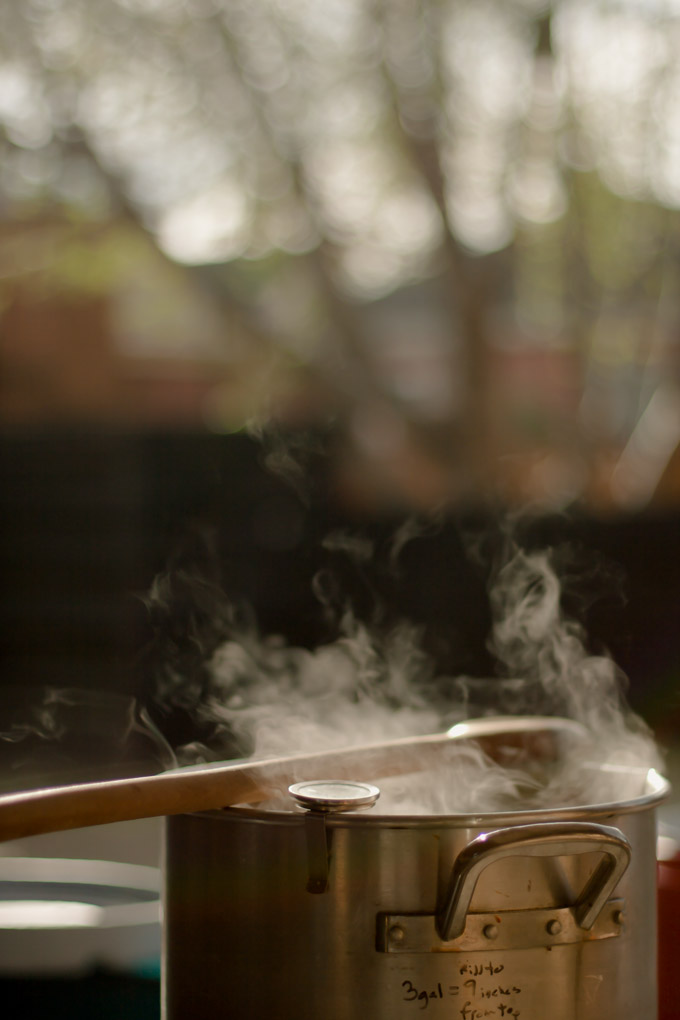 Following up the brewing of our first 2011 holiday ale a week prior, this past weekend, we fired up the propane burner and set off on knocking out our second batch for the season. To compliment our spiced English ale, we thought we'd come out swinging with an imperial stout. My thinking was to lull our friends and colleagues in with a decent session beer and then hit them over the head with a high alcohol and strong hop presence stout (think along the lines of GDBC's Yeti series or Firestone's Parabola). A perfect accompaniment to a cold, dreary winter day. Unfortunately, as a result of some bad math and pulling a bit too much from the mash tun during our sparge and we're left with a run of the mill stout.
I'll quell my disappointment until I sample the resulting brew, but my heart was set on hitting another home run as we did with our second batch of our Vanilla Porter. Brewed for Design & Image's 40th anniversary party last week, 24 bombers of our best brew to date* were given away to a lucky few at the soirée.
And so this may indeed be the last brew update of 2011. While we didn't get as many brews in as we did in 2010, our quality has far surpassed what we doing a year prior. With my 30th, the holidays, and a few back to back home Bronco games fast approaching, our free time for the remainder of the year is dwindling. Combine that with our misstep that was this past weekend's brew, resulting in a decision to go back to the drawing board in regards to our setup and process, and this stout may have been the last beer brewed of 2011**. My goal for 2012 is to become far more efficient in our process as well as increasing our brewing capacity so that we can be doing at least 10 gallon batches from here on out.
*As well as our highest alcohol by volume brew. While our main objective has never been to get the most alcohol out of a batch of beer, creating a 9.5% ABV brew on our own is an accomplishment we're proud of as home-brewers. Nearly 2 years into the hobby, we're still refining our craft, but to hit our numbers and the mark on any beer is something that makes me smile. To do so for such an important event allowed me to breathe a sigh of relief (we've fucked up "occasion" beers in the past) while feeling rather content with what we produced.
**We are going to bust out a cider this upcoming weekend which will be kegged and enjoyed by those with access to our tap room.
Drink up.