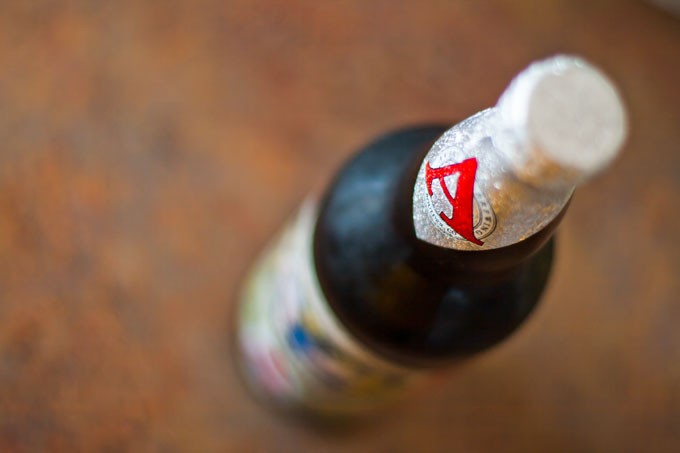 Over the past few nights, we've spent some time with a few of Avery Brewing Company's unique beer offerings. While watching the Broncos vs. Steelers playoff game this past weekend, we cracked open a bottle of their Hog Heaven Barley Wine which I received for my birthday. As the boys in blue and orange pulled off a miraculous upset, we imbibed on this intense libation. Barley wines are something that I have only recently begun to experiment with, and to my recollection this skewed to one of the more potent that I've sampled. The beer pours a ruby copper color with a slight head and a hoppy, boozy and grapefruit aroma. For lack of better terms the flavor of this beer is big. Hog is intense on all fronts, at least to my palate. From all fronts I was bombarded with hints of malt, citrus, hop and booze. The best way to describe this shock is to take the freshest harvest pale ale of fall and amplify it exponentially. I have another bottle that I plan to cellar for some time to see how this beer changes with the passing of time.
Continuing the affair of the past few evenings with brews born just north and west of where I write these words, last night we attended our second night of Euclid Hall's beer month (pdf) to partake in one of the month's brew bites where they match a particular style of beer to selections of their delectable cuisine. Tuesday, the 10th, was sour night which entailed three sour beers paired with three bites. Lilikoi Mahu with roasted beet ambrosia. Immitis, another Avery barrel aged brew, with butter poached mussels. Finally, Duchesse de Bourgogne with a sourdough waffle tart.
My notes from last night are limited to Lilikoi Mahu, so I'll reserve my thoughts for the remainder of this posting to it. Lilikoi, with hints of tartness and sourness, is a very fruity and sessionable beer. It pours a hazy straw yellow color and has an aroma of passion fruit, yeast and a bit of funk. The taste falls in line with it's aroma. While I prefer a beer that is a bit more assertive, Lilikoi does take you on a journey from passion fruit, to hints of a German wit beer and finally to touches of yeast and sourness. The passion fruit found in it's aroma and taste brought me back to the days of my childhood and juice boxes during lunch and recess. I'm very thankful to have been able to imbibe on such a rare offering.
What I feel like expressing more so than my ramblings about brews is my experience with Avery Brewing Company and Euclid Hall. In a world of homogenized bullshit corporate crap it is really uplifting to encounter and speak with, albeit briefly, with a few people who truly take pride in the work that they do and what they create. Many thanks to Adam for taking the time to personally respond to my inquiry about the aging of Hog Heaven and to Cicerone Ryan Conklin for taking the time to shoot the shit about Euclid Hall's beer month and his thoughts on the subject.