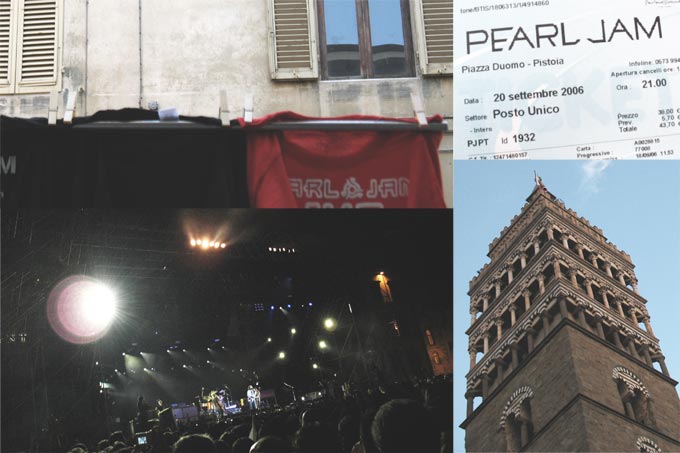 Pistoia, Italy, September 20th, 2006
Not a fall goes by since my time in Italy when I don't lament the experience having come to an end. Often I miss the freedom and the endless wandering. Being where the intent was only to create for myself was extremely liberating. As I've previously transcribed on internet pages long expired, one of the highlights of my 89 days was seeing Pearl Jam play in the main piazza square of Pistoia, a small Tuscan town 20 miles north of Firenze.
Nearly five years to the day, I found myself in Bologna, Italy doing what I do best. With the advice of a long time friend who studied there, I set off to witness another timeless Italian town. Also, armed with knowledge of my own that Bologna would be the only place where I could snag a ticket to Pearl Jam's Pistoia show. Prior to leaving the states for my exploration, I set my desires on seeing that show since the idea of seeing the band play in an Italian square sounded extremely intriguing.
With a few rehearsed words and fingers tightly cross, I entered the ticket outlet just across the tracks from the Bologna train station hoping that there would be one ticket left for me.
A few days later I was lost in another Tuscan town. Surrounded by outdoor cafes, timeless architecture, and the evening light of an early fall evening I made my way to Pistoia's Piazza del Duomo to catch what I figured would be an incredible experience of seeing a favorite band in a foreign land. Arriving in time to hear the band soundcheck, the night would not disappoint.
Ruminating on the evening while attempting to sleep in Pistoia's train station while waiting for the next morning's commuter trains back to Firenze, I recall that the highlight of the night was not the stellar performance but instead how passionate the crowd was. Never had I been to such a show where the band was drowned out by the audience, and I figure this might not occur again.

Pearl Jam: Twenty trailer

My original intent for these thoughts was to tie them all to Pearl Jam: Twenty. The documentary released five years to the day after I saw the band play in Pistoia chronicles the band's history over the past 20 years. Unfortunately, my dumb ass neglected to get tickets ahead of time. Therefore, we couldn't attend the sold out showings. I was looking forward to seeing the show on the big screen, but I'll have to want and watch it on my dinky TV.
So on this year where Pearl Jam turns 20 – a band that defined the soundtrack of my late teens and twenties – I share my gratitude having shared this story.
I end with a few words from the night in Pistoia:
"Ringraziamo la città di Pistoia.
Pistoia, per averci permesso di riempire la loro aria
Con la nostra musica.
Vi invitiamo quindi a cantare in modo
Che le vostre voci possono raggiungere il cielo…
Abbiamo passato una settimana in Italia.
La prossima volta, magari, sará per un mese.
Magari, per il resto delle nostre vite."
And we thank the city of Pistoia.
Pistoia, for giving us permission to replenish their air
With our music.
We now invite you all to sing in a way
That your voices can reach the sky…
We have spent a week in Italy.
The next time, God willing, it will be for a month.
God willing, for the rest of our lives.