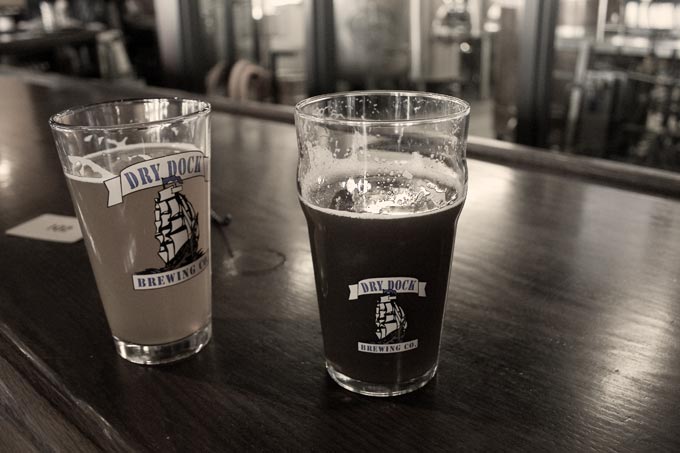 Dry Hopped Irish Red and Paragon Apricot Blonde from Dry Dock Brewing Company
Friday, June 10th
Forgoing another day in front of pixels, our "weekend of beer" started Friday afternoon when decided to head east to Aurora to obtain our supplies for Sunday's brew-day from The Brew Hut and also to snag a pint from Dry Dock Brewing Company. First, I must say that I really enjoyed our experience at The Brew Hut. Particularly in regards to their organization and presentation of their grain supply. Top notch, the drive was worth it for this alone.
After milling some grain and drooling over gear that the TCB budget cannot afford, we had a few pints of Dry Dock's offerings. The lovely Miss Erin started with their Paragon Apricot Blonde and myself with their Firkin dry-hopped Irish Red. The blonde had a strong apricot presence and was a bit too sweet for me. The dry-hopped Irish Red and myself did not see eye to eye. I've been trying to pinpoint what it was about the flavor since imbibing with no success, but this one simply was not for me. We ended our time in Aurora sharing a pint of their USS Enterprise IPA. An IPA so fine it would be a staple of mine if I was closer to the brewery or if it was available in 6ers.
Mystery goodness barrel aging at Great Divide Brewing Comapny
Saturday, June 11th
On Friday afternoon as a result of changing plans it became apparent that the lovely Miss Erin, a few other beer and TCB brewing associates and myself would be able to attend Great Divide Brewing Company's 17th anniversary party. Tickets were promptly purchased and a day later as thunder clouds parted way, we were entering the gates to their annual block party. What turned out to be a pleasant early summer affair also ended up being a nice few hours of drinking some top notch beers with some great people.
The way I would describe the party is similar to a memorable temporary art exhibit. If you're lucky enough to have seen it, you have the pleasure of a great memory. If you didn't, a little jealous voice inside harks at you for your lack of effort. I say this because that is how the very limited and rare beer were presented by the brewery to those in attendance. Tasting certain beers became a matter of being in the right place at the right time. I was fortunate enough to get to try Chocolate Cherry Yeti which was outstanding. I was extremely disappointed to miss out on Bretty Yeti by a matter of a few people in line ahead of me.
Looking back on the event I found myself thinking that it would have been nice to have a beer schedule for the event. It would have allowed for the ability for those to plan out their beer consumption if they so desired. The more I pondered on that idea, the less I liked it. True, I enjoyed my brew list from Odell's Small Batch Revival and had an idea of what I was after before arriving in Ft. Collins, but in this case I'm happy there wasn't one made publicly available (at least to my knowledge). Spontaneity is an underrated aspect of the lives we lead.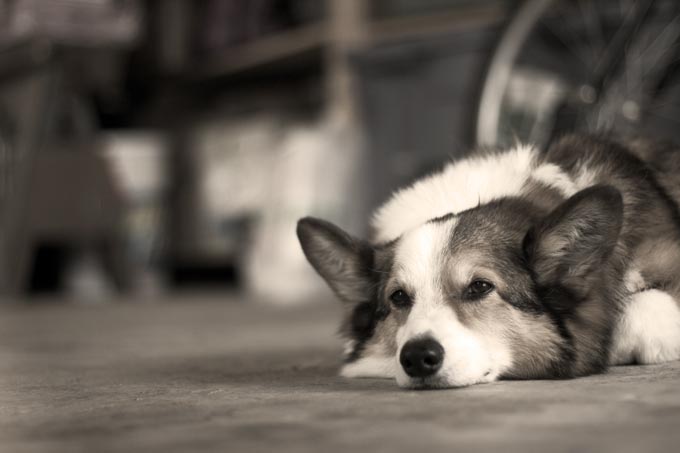 Scooter the brew dog
Sunday, June 12th
By brew-day, we rallied to brew up another variation of our wheat beer. This time an Agave Wheat brewed by special request for an upcoming birthday celebration. For this brew, our normal addition of orange peals was substituted for a generous amount of agave honey. Despite a few mishaps during the process, the yet to be named brew is solidly fermenting away as I type and will be ready for consumption by a lucky few come the end of July.
Drink up.