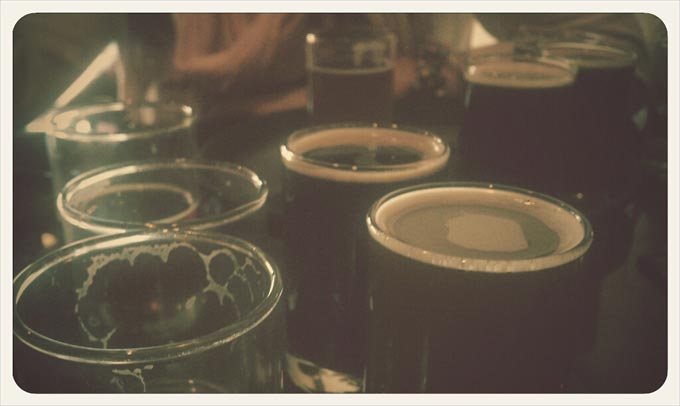 Taster trays at Equinox Brewing Company
Photo Credit: Erin Williams and David Hilgier © 2011
The weekend most recently passed the lovely Miss Erin and I headed up to Fort Collins for yet another excursion of brews and hanging out with friends. With plans of a haunted tour of Fort Collins in the evening, we decided to make a day of the event and grab some eats and brews to bookend the happening. Aside from the drive to and from, which becomes more and more reminiscent of a jaunt on an LA freeway, the day away from Denver and apartment was a welcome excursion.
After arriving in Fort Collins, with bellies running on empty, we decided to fill our tanks at Choice City Butcher & Deli prior to imbibing on some delectable brews and our tour of the city. Quintessentially, I had the Italian sandwich which, while enjoyable, was enough to fill three. Choice is indeed choice. If you have the means…However, this time the food was not what caught my eye.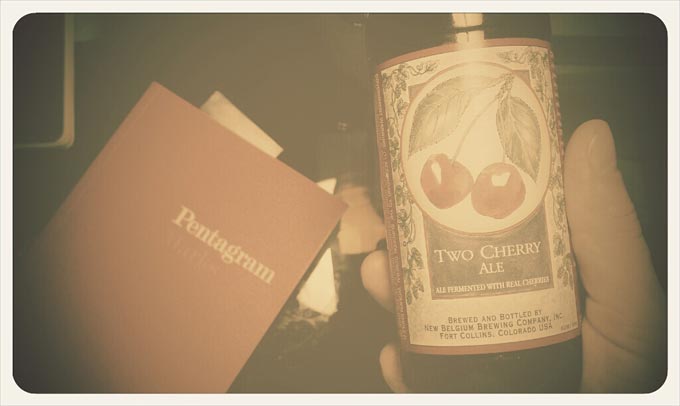 Two Cherry Ale bottle from circa 2001
Sandwiched within the plethora of amazing draft beer selections was a diamond amongst diamonds. a handle of New Belgium's Old Cherry Ale called out to me like a long lost lover through a pea soup fog in an some distant train station. Harking back to years long past hanging out in the DU dorms with my great friend Geoff, Old Cherry Ale (10 years ago for me was Two Cherry, based on Old Cherry Ale from 1998) was one of the beers that forayed my palate into craft beers. With what seemed a logical choice at the time, I decided to pass on having Old Cherry Ale, let alone a beer at all, at Choice City since I had an afternoon of beer drinking ahead of me which included a stop at New Belgium, a logical place to get Old Cherry after filling my stomach.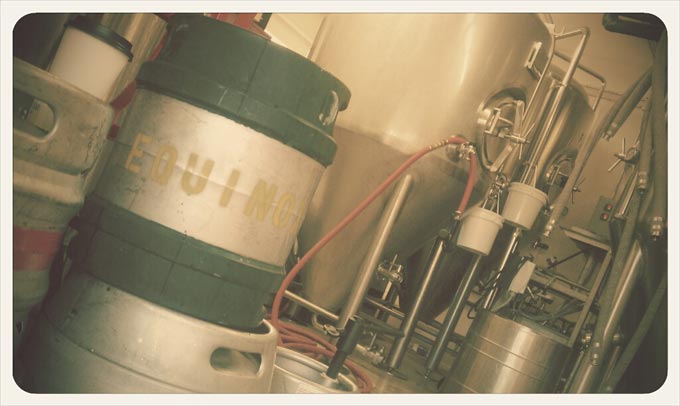 The Brewhouse at Equinox Brewing Company
Photo Credit: Erin Williams and David Hilgier © 2011
After our meal at Choice City, we traveled a few blocks and made our first visit to Equinox Brewing. Unfortunately, the umbrella thesis of this story perhaps will eclipse my thoughts of Equinox, but I must say I really enjoyed my time there. To tie everything back together, this reminded me of visiting New Belgium shortly after I turned 21 as it was a low key place with no need to jostle one's way to obtain a brew. In my opinion, if I had the means to run my own brewing company, it would follow a similar paradigm as Equinox: good beer, board games, families welcome, an outdoor seating area amongst the highlights. Between the two of us, we split two taster trays. One their standard offerings, the other I believe seasonal/specialty brews (forgive my lack of notes as to specifics to the differentiations). While my taster tray was a bit too heavy on the Hefewiezens for my preference, I really did enjoy the Atom Smasher Wee Heavy and Imperial IPA I received along with the Autumnal Alt on Erin's plate. I wish a place such as this existed in our neighborhood, and with luck hopefully that is the direction Denver will turn and eventually be filled with neighborhood centric breweries.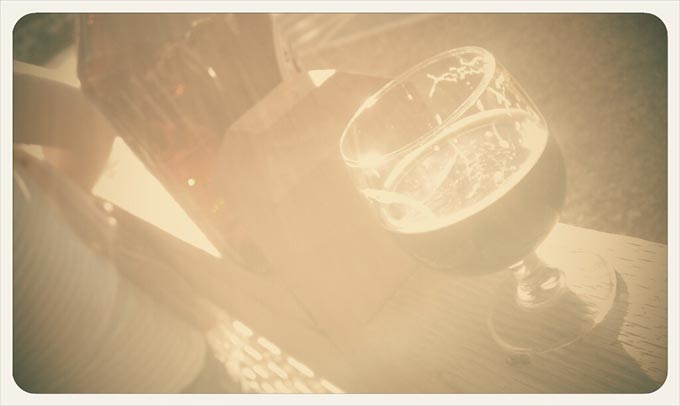 Taster in New Belgium's new outdoor patio
Photo Credit: Erin Williams and David Hilgier © 2011
With limited time between the closing of the breweries and the commencement of our ghost tour, with the prospect of samples of Old Cherry and bombers of Kick, we decided to make our second and last stop of the day New Belgium. Immediately upon viewing the tap handles I realized that I had potentially made a fatal error by not trying Old Cherry when we first saw it earlier. I thought it was safe to assume if available elsewhere in the town, one could surely obtain it at the location which it was brewed. Disappointed, we made the best of New Belgium's new taproom setup and had full pours of Clutch, Kick, and La Folie – enjoyed in their new outdoor seating area – prior to making our way back downtown to meet up with friends for our tour.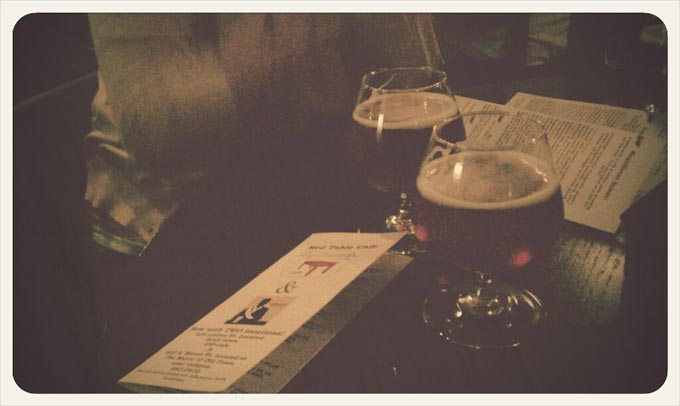 Old Cherry Ale found at The Mayor of Old Town
Photo Credit: Erin Williams and David Hilgier © 2011
As our ghost tour drew to a close and with the end of the evening looming without having a sip of Old Cherry, we decided to try our luck at The Mayor of Old Town for some nosh and hopefully a night cap of the beer we'd been seeking since first spotting it at Choice City. Prior to last weekend, I had yet to visit or even hear of the establishment and upon walking in I knew that even if they didn't have Old Cherry, I probably wouldn't be disappointed. With a roll normally reserved for showing sports games in any other large bar, a massive projector system spanning the length above the white tile backed bar displays the offerings of the evening, which purportedly top 100 beers. Simply put, something for everyone with a lot of rare finds mixed in. Skimming the list for what we had been hunting all day, our objective finally was met. So, in the low lit bar, while playing a game of dice with a train slowly rolling by just outside the windows, I sipped on the red-hued libation and recalled memories of years now long passed. The beer itself is slightly tart and very drinkable, by no means sweet, fruity or overly "cherry". It was a near perfect recreation of my palate's memory of drinking the beer on crisp fall evenings. The best beer of the day? Probably not, but some times taste isn't the end all be all factor.
Drink up.