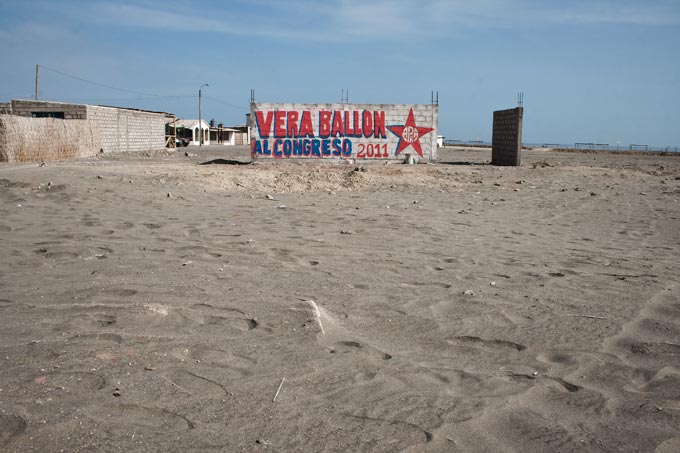 Political typography in Camana supporting Vera Ballon
As sacrilegious as it would be for the food and beer lover in me to travel to Perú and not consume a bite of ceviche or a drop of chicha, so to would not lamenting on the design we encountered while there. Sparing an unnecessarily long narrative in regards to the umbrella topic, I was particularly drawn to the typography found in Perú. From the hand generated letterforms that ranged from the immaculate detail of the ceramic street signs in Lima to the messages of civic pride painstakingly carved into hill and mountainsides I was often quite inspired by what I saw.

Mountainside typography in Cusco
Admittedly, I had little pre-conceived notion of Peruvian culture, design and aesthetics prior to our departure. In the few weeks prior to leaving after purchasing our tickets, I read some literature and watched a few travel shows regarding the cuisine of the country in order to obtain a brief idea of what gastronomical and cultural offerings to try out ourselves. In doing so, obviously, I encountered a few images of the country helping lead to a hazy mental photograph of what the country would look like. One image that broke through the haze ultimately tattooing itself on my anticipatory list was that of the city Cusco. Its colonial architecture, expansive main plaza and the brilliant colors and patterns adorning the dress of the locals; all flanked by a backdrop of mountains. Etched in a few of the faces of these mountains were typographic elements that the designer and typography lover in me wanted to encounter in person.
As the culture, history, pride and perhaps the sorrow of the nation permeates all aspects of Peruvian life, so to do these statements that loom over the cities and towns from the mountains which they are carved into. As interesting and peculiar they seem in still and motion, they are even more impressive in person. In Cusco, the letterforms and drawings on the mountains continually peaks their gaze through the facade of the city architecture reiterating typographically and artistically the magnificence of the country.

Political Typography between Cusco and Aguas Calientes
Photo Credit: Erin Williams © 2011
After departing Cusco we witnessed another aspect of Peruvian typography that would polka dot the remainder of the visual backdrop of our journey. This April, Perú will hold its general election for a new president as well as for other elected government positions nationally and locally. Outside of the main city centers and towns, political allegiance and demonstration of candidate support is done through the painting of a wall of a house, storefront or other buildings. These paintings take up the majority of a wall or facade and maintain a consistent palette as well as design scheme particular to each candidate often painted over versions from elections prior. After prolonged exposure, I'm sure these paintings go unconsciously unnoticed by the locals in a similar manner to which I tune out the political auditory and visual vomit we are all subjected to each fall in the United States. As the outsider, I was quite intrigued by them, constantly looking for new iterations as the regions passed.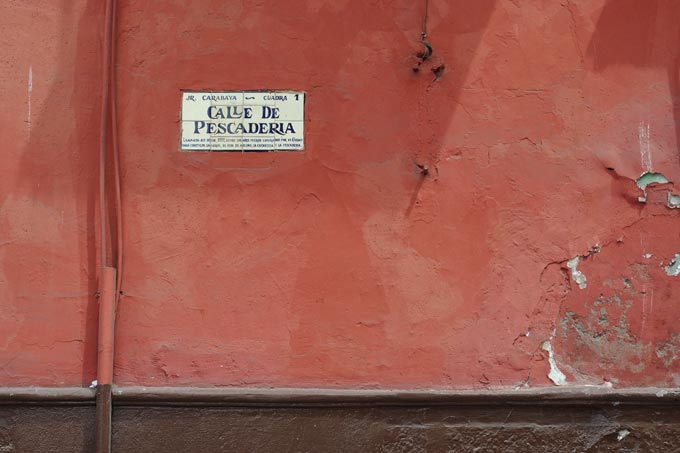 Tile street sign in Lima
Perhaps during our last few days in that were spent in Lima is where I encountered my favorite typography, and design for that matter, of the trip. In the area near Lima's Plaza de Armas, the street signs made of ceramic tiles, affixed to building walls containing blue hand painted street names, are just nasty (in the greatest of possible ways). Even those devoid of a love for typography can hopefully find enjoyment in something so simply beautiful. I look forward to the day when I can create something similar for my property.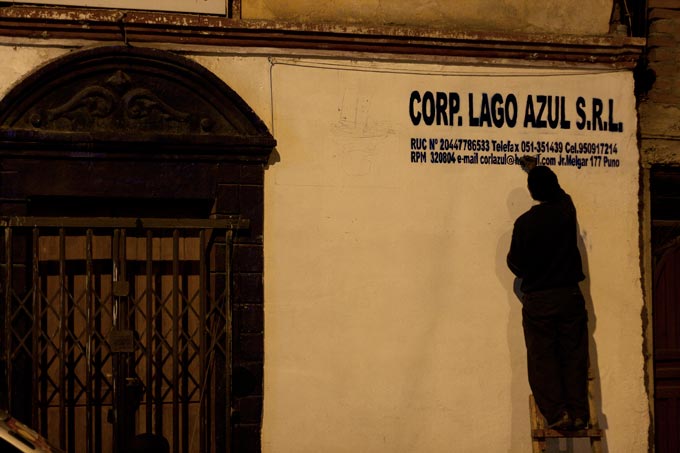 Artisan hand letters a building facade in Puno
What it boils down to for me in regards to Peruvian visual aesthetics captured by my eyes and camera over the course of our voyage was that they were a breath of fresh air from the visual pollution of America. Ironically, the same would probably be said conversely. Sure, parts of Lima and elsewhere are a billboard graveyard of adverts controlled by the iron fist of Clear Channel and their desire to homogenize an entire planet in order to keep their bottom line in the black. However, one can find the true culture and personality of a nation expressed through such vehicles as typography and design as long as their willing to look for it.