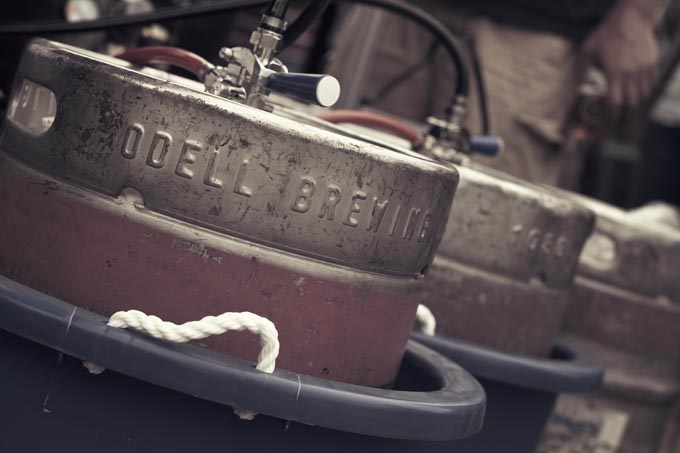 As part of the celebration of the lovely Miss Erin's latest trip around the bright spot in the sky, this past Memorial Day weekend, along with some beer loving comrades we decided to cruise north to Fort Collins to attend Odell Brewing Company's Small Batch Revival Festival. I'll always appreciate a festival such as this one where experimentation is given center stage. Odell's Small Batch Revival Festival didn't disappoint my thirst for brews I normally do not get the opportunity to try. Fort Collins is so close, yet so far from this Denverites backyard. I've yet to attend an Odell Firkin taping and rarely do I get the chance to sample offerings included in their pilot trays. Of the 30 brews offered at the festival for $4.00 each with no cover, around 20 were of the small batch variety and my lips parted for tastes for about eight of them.

By far my favorite sampling of the day was Wooden Elephant, an oak aged IPA. Not only have I been digging IPAs of the oak aged and blended variety as of late, in particular the four pack of Burton Baton from Dogfish Head was lucky enough to snag a while back and Great Divide Brewing Company's 17th Anniversary Wood Aged Double IPA. Tasting another oak aged IPA also reaffirms how close to style the oak aged IPA that we brewed turned out. Even-though ours is still a bit bourbon forward and in need of a bit more hop presence, we're progressing with our efforts. I found Wooden Elephant to fall in the middle of the scale in terms of the oak aged IPAs I have mentioned. Nice and balanced with a decent bourbon and oak flavor that is not overwhelming. In comparison I found Burton Baton to be the most boozy (sweet and bright alcohol flavors) of the bunch and a bit thicker in mouth-feel. 17th Anniversary had a bit more in regards to hop presence, at least to my recollection as it has been a few months since I sampled it.
Other highlights of the event include the following. Though I only had sips of the Coconut Milk Porter (Firkin) and Easy Street with Roasted Chilies (Firkin) I thought they were both mighty fine offerings. The Coconut Milk Porter had a more pronounced coconut flavor and sweetness not as boldly exhibited in other brews which utilize the tropical fruit. Easy Street was, dare I say it, one of the best chili beers that I've tried. So much so that I'm nearly convinced to brew my own variation this summer/fall come harvest time. It had a nice bite to it resulting from the chilies, but by no means did it ruin or overpower the beer as I feel chili beers tend to do. I didn't respond as favorably to Helihopter, which is a Belgian IPA. Not because the beer wasn't up to par with the rest of the offerings, but rather the realization has been made that this style just doesn't meld with my palate.
Cheers to Odell for hosting an enjoyable and affordable affair. Hopefully Small Batch Revival will be back in 2012.
Drink up.